Digital Mission Consortia
Wheaton College Billy Graham Center, in partnership with OneHope and other gospel ministries, has convened a "Digital Mission Consortia" to collectively leverage technology to accelerate our mission of showing and sharing the gospel, making disciples of all nations.
White Paper | September 2023
Digital Spaces and Places, A Spectrum of Online Ministry Engagement
A Summary Paper Presented to the Digital Mission Consortia by Todd Korpi, DMiss
The purpose of this paper is therefore to further elucidate the nuanced
differences between digital spaces and digital places and to provide practical
examples for how church and parachurch leaders might recalibrate their
online ministry efforts by learning to exegete their digital context
at this most basic level.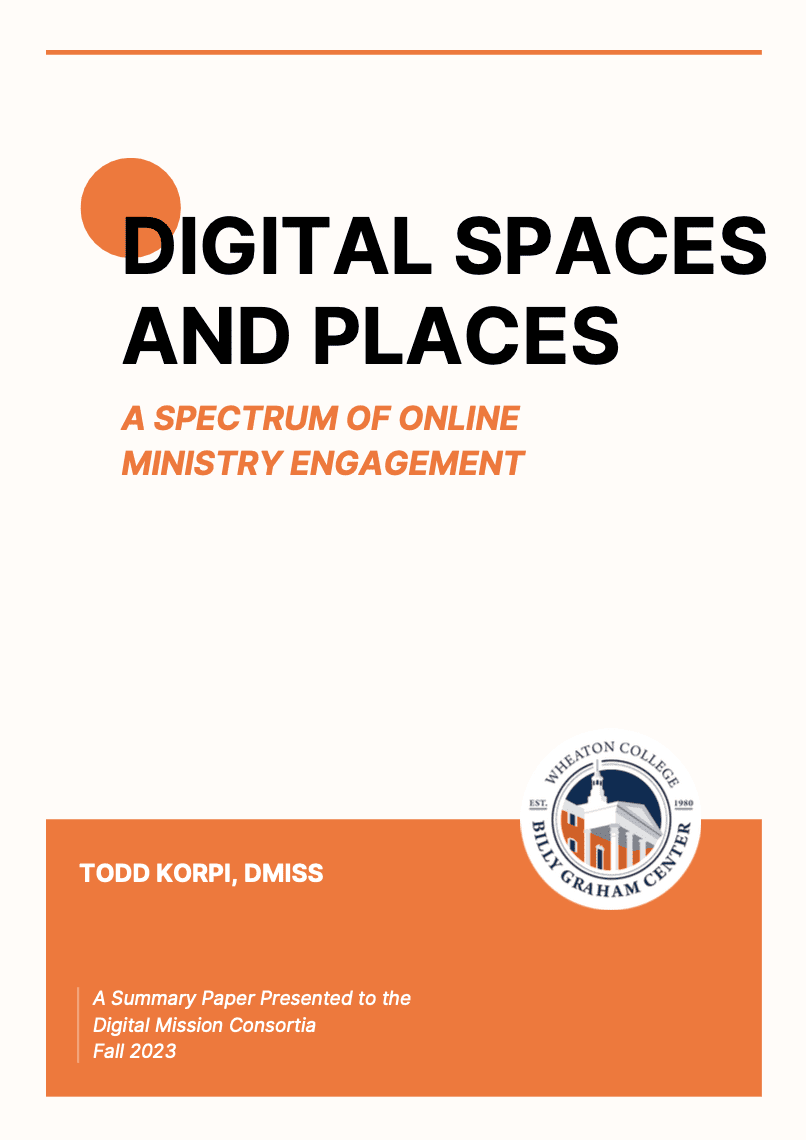 Digital Spaces and Places
The Digital Frontier of Mission: Understanding the Landscape and Ecosystem
This report is designed to provide preliminary findings, both from existing literature and initial field research, to understand the landscape of the church's participation in the mission of God (missio Dei) in digital places and spaces. This report's preliminary findings, recommendations, and conclusions are just that––preliminary. They are put forward in an attempt to initiate a broader conversation around the digital mission that considers the perspectives and practices of many rather than providing exhaustive and universally applicable conclusions set in stone. The belief that underlies this research endeavor is that ongoing collaboration, as guided by the leading of the Holy Spirit, is essential to understand how to minister to people in digital spaces.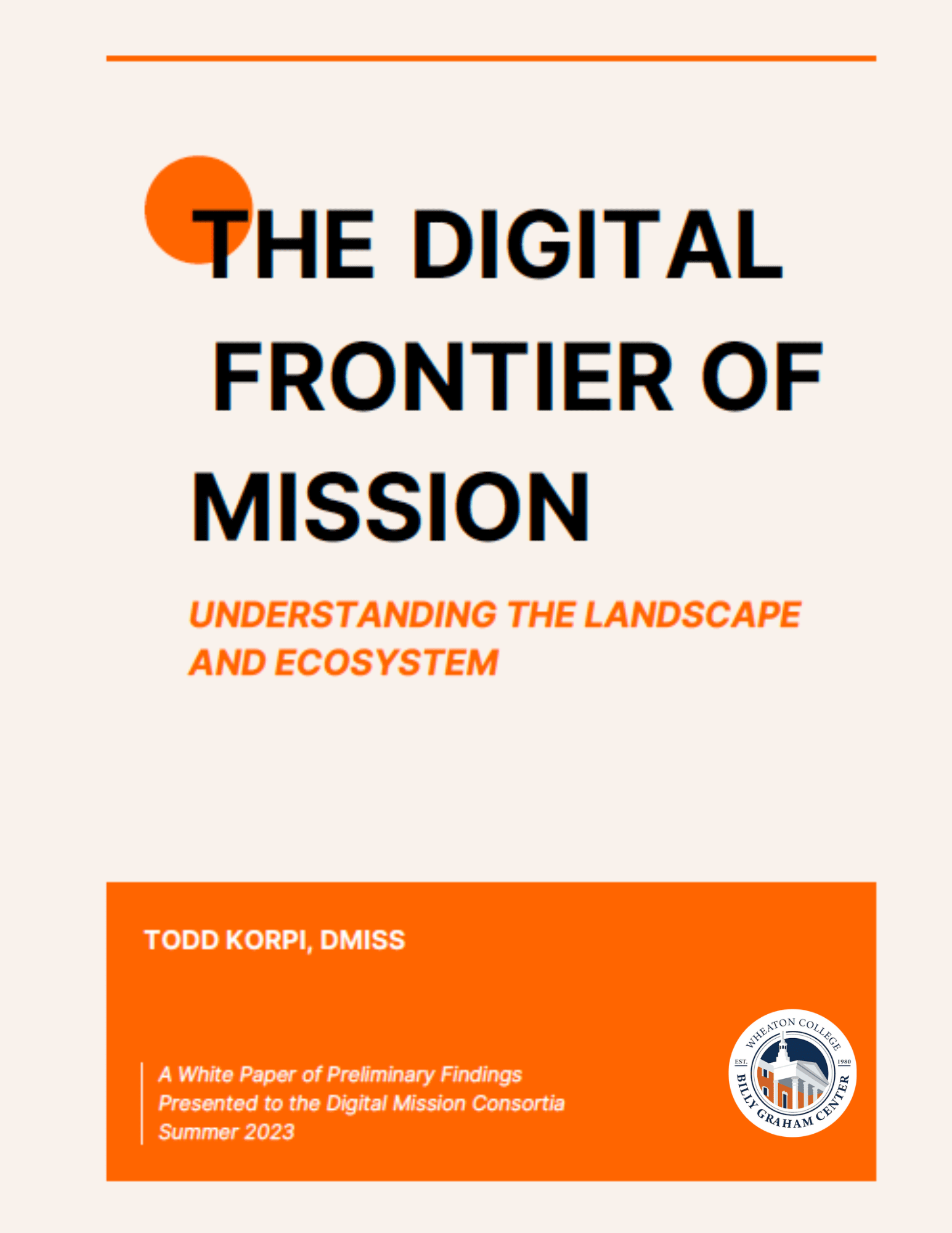 The Digital Frontier of Mission
New Strategies in Evangelism
by Dr. Ed Stetzer (Presentation at Empower21)
In this presentation, Dr. Ed Stetzer outlines four new strategies for Christians seeking to reach our world with the gospel.
Dr. Stetzer builds on the Digital Consortium's research on digital mission in exploring our new digital frontier as one of these strategies, helping pastors and church leaders to think critically about how best to engage. This presentation will be useful for leaders searching for practical tools, innovations, and insights on digital mission.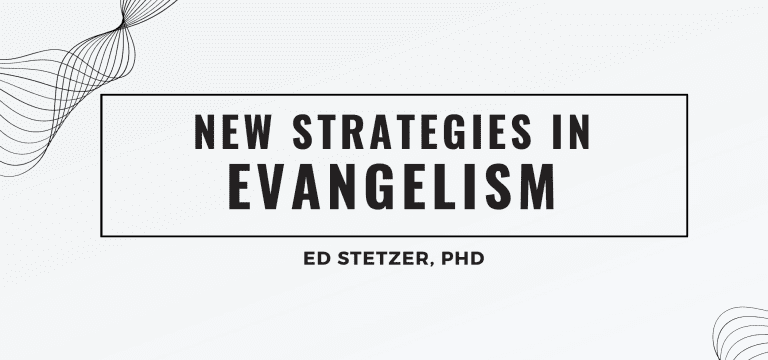 New Strategies in Evangelism
An Emerging Digital Mission Field
According to recent Barna research…
If U.S. adults have a question about Christianity, they are more likely to ask the Internet than a friend
Half of churched Christians would like to be coached on or given tools for digitally sharing their faith with non-Christians
Only 27% of non-Christians say they would be interested in any invitation to a digital church activity or group.[1]
Pioneering ministries have entered the space of digital evangelism and discipleship, surfacing new challenges and opportunities. The recent global pandemic accelerated the field of digital discipleship, as churches and ministries faced limits on in-person services and gatherings. Society overall looked online for connection and hope. Before churches and ministries too quickly return to "normal" after the pandemic, we are presented with a unique inflection point for learning and innovation.
Together, we believe complex problems require large-scale partnerships. No one ministry can do this alone. This will take the best thinking from a global community of digital ministry leaders, funders, churches, researchers, and missiologists to identify best practices, spread innovation, and recommend standards to guide digital ministry for the coming decades.
[1] Barna Group, Five Changing Contexts for Digital Evangelism, 2020.
Preliminary Research Questions
Digital mission is raising new questions:
Which ministries are emerging as leaders in evangelism and what are they learning?
What best practices can we discover and disperse to accelerate impact? What can we collectively do better?
What practices and paradigms from the analog ministry world should be adjusted or abandoned in a digital world?
What innovations and opportunities can be curated and mutually developed with the majority world of Christians outside North America?
Where are overlapping or redundant ministry investments being made? Where is funding needed that would deliver a high return on ministry investment?
While the questions are new, similar challenges have been faced by pastors, church leaders, and missiologists in previous eras. On October 24, 1948, as Christian revivals entered a postwar boom, Billy Graham and his ministry team established the Modesto Manifesto, a series of commitments to protect the integrity of Christian ministry, including commitments about sexual and financial integrity, a commitment to work in partnership with local churches, follow-up on decisions, and accurately report attendance numbers at their rallies.[1] These collective commitments supported the integrity and credibility of gospel witness for a generation. As we enter this new digital era, what similar commitments and ideas would preserve the integrity of digital discipleship?
[1] Graham, Billy. Just As I Am, online excerpt and article (Billy Graham Evangelistic Association, October 24, 2017).