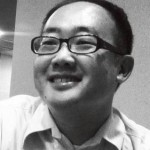 Pastor Ray Chang is originally from Southern California where he attended Biola University majoring in Biblical Studies. From Biola, he went to Talbot and Dallas Theological Seminary earning a Masters in Divinity and a Masters in Sacred Theology. He more recently completed his Doctorate in Ministry at Trinity Divinity Evangelical School. In addition to his academic history, Pastor Ray has extensive ministry experience in second-generation Korean American and multiethnic ministries.
He began as a youth pastor in Southern California, then moved to an internship at First Evangelical Free Church of Fullerton under the pastoral leadership of Chuck Swindoll. It was there that Pastor Ray was ordained and received his call to Korean Central Presbyterian Church as their English ministry pastor. He served there for three years from 1993-1996.
Afterward, he planted a multi-ethnic church, Ambassador Bible Church, in the Washington D.C. metropolitan area. In 2000, Ray moved back to Southern California to the same church where Pastor Ray did his internship, EV Free Fullerton to become the Outreach Pastor. In 2003, Pastor Ray planted his second church, Ambassador Church in Anaheim and Brea. Pastor Ray is married to Sun, and they have twin daughters, Kristen and Karissa.